Saturday the 7th of December, 2012 sees the start of a weekend of celebrations marking Flynn's of Lackagh's 170th Anniversary.
'We are very proud to be serving the community in Lackagh and its environs for the past 170 years – and we wanted to say a big 'thank you' to all those customers, neighbours and friends who have supported us.' Explains Emma Flynn. 'We've planned a Christmas the med weekend of fun – with a cookery demonstration, treats & nibbles, competitions and giveaways. There will be discounts across not only the three Flynn businesses(Flynns Super Valu, Flynns Topline Hardware and Flynns Agri Store) but also in the 8 other essential businesses based here in the heart of Lackagh.'
Activities and offers will take place throughout the weekend – one of the highlights of which will be a demonstration by local chef Shane Hanley, who will prepare a full Christmas dinner, with all the trimmings from 7.30pm in the marquee on Friday 7th which will be located beside Flynns Super Valu.
Over the 170 years the Flynn business has grown from a bar and small grocery store established in 1842 by Thomas Kearney to encompass the supermarket, hardware and Agri business employing 75+ people in Lackagh. In addition, the complex plays host to a range of invaluable associated businesses including: The Beauty Boudoir, Sheer Bliss Hair Salon, Elements Acupuncture & Yoga, Lackagh Pharmacy, Turloughmore Post Office, Treat Café, Carlos' Car Wash & Valet Service, Flynn's Bar and The Turloughmore Health Centre. These associated businesses employ a further 30+ people.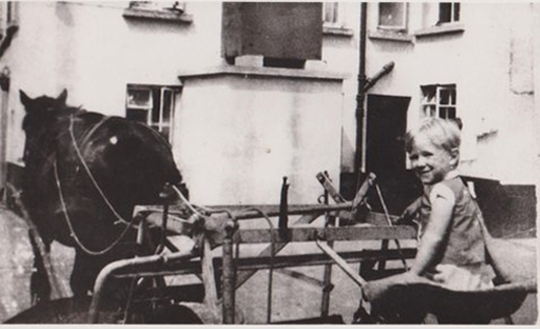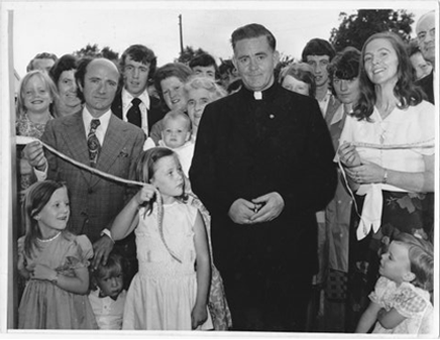 'It has been an incredible journey to see the business develop from humble beginnings, to grow into a range of services and supports that meet the needs of this vibrant and modern community.' Says Julien Flynn who, following in the footsteps of his father Thomas Flynn, grandparents Michael Flynn and Maureen Flynn (nee Kearney), great grandfather Richard Kearney and Great Great Grandfather Thomas Kearney, has steered the business into the 21st century. 'Offering our customers such a broad and valuable range of services has been central to our plans – and we are delighted to work with such positive and proactive partners in this. We hope to expand the range of services even further over the coming months by attracting even more retailers and service providers to the area.'
Times are challenging for everyone, but Flynn's believe that by offering quality service, exceptional value and great customer service across a range of key services that they are enabling the community to shop locally with confidence – alleviating the need for costly and time-consuming trips into the city, and helping support jobs in their area.
Local community has always been central to Flynns of Lackagh – and this was recognised when Julien Flynn was presented with a "Corporate Social Responsibility Award" – by the Mayor of County Galway and Minister Phil Hogan in April 2012. The award recognised "their sustained efforts to strengthen links with and to have a positive impact on the local community" through initiatives such as the giving of 2 acres for a local grave yard (when no land was available in the area), sponsoring and supporting the local Turloughmore Hurling and Camogie Clubs, The Claregalway Football Club, The new children's playground, Lackagh National School and many, many more charitable causes and events.
'Its not every day that a business can say it has served its local community for 170 years – and we hope that all of our customers, past, present and future will join us for our Agri Suppliers Open Day on Friday 7th from 2-6 and our Christmas Cookery Demonstration that evening, along with MASSIVE Sales and Prizes to be won over the weekend!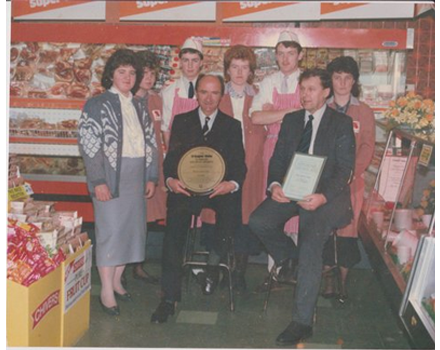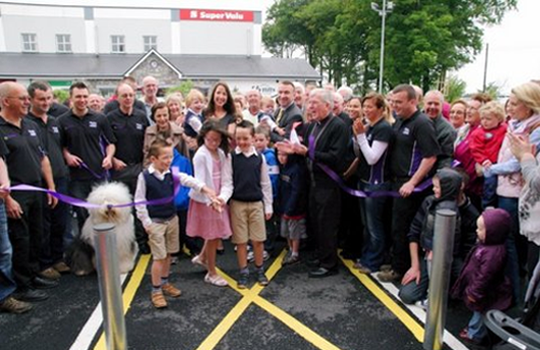 Flynns of Lackagh Ltd., under the ownership of Mr. Thomas Kearney, was starte in 1842 as a Bar and very small Grocery Store. Thomas's son Richard Kearney then took over the business in the late 1800s/ early 1900s and later passed the business on to his daughter Maureen Kearney, who went on to marry Michael Flynn, a successful businessman and cattle dealer from Tubber, Co. Offaly.
From there the business began to grow further, eventually changing names to Flynn's of Lackagh. Thomas Flynn, Maureen and Michael's son took over the business in the 1950's and began to expand the business.
Thomas & his wife Carmel eventually grew the business into a very successful Supervalu Supermarket and Hardware Store and Agricultural and Fuel Merchants, these businesses were built on the land beside the existing bar & grocery store. In 2001 Thomas and his son Julien expanded the business even further by building a new 10,000 square foot Supervalu Supermarket on a site next to the old Supermarket, leaving space to grow the hardware. The new Super Valu was one of the largest and leading supermarkets in rural Ireland.
In 2006 Julien and his wife Emma took over the ownership and directorship of the business and have since renovated and expanded the hardware, which is now a Topline Hardware & DIY Store.
The rental units within the Flynn's complex have also grown hugely over recent years and we now have a very large number of very successful businesses on our doorstep including The Beauty Boudoir, Sheer Bliss, Elements Acupuncture & Yoga, Lackagh Pharmacy, An Post, Treat Café and Carlos' Car Wash & Valet Service.
Together we are all working hard to ensure the community has what it needs right here in Lackagh & we are still growing from strength to strength thanks to the support and custom from not only our local community but from customers from much further.